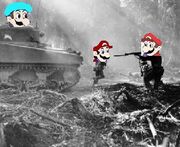 These days in 
75H
were dark times, a few died, a few survived. Nobody knows the reason why they fought. Some people think it was over some apples; others think it was to see who was the true
Fakegee
. Both kinds of people are wrong. At one point, some fakeegees formed a temporary alliance, but soon went back to brutally killing each other. After the war, no Fakegees fought each other ever again.
After that, Greegee ran wild and killed a few fakegees.One of the most Fakegee that fought the war was Gladiogee,
List of things in The Fakegee War
Ad blocker interference detected!
Wikia is a free-to-use site that makes money from advertising. We have a modified experience for viewers using ad blockers

Wikia is not accessible if you've made further modifications. Remove the custom ad blocker rule(s) and the page will load as expected.