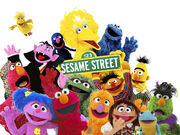 Sesame Street is a show for young children, airing on local PBS affiliates. Sesame Street stars furry puppets known as Monsters, as well as people who clearly have no life whatsoever. It is a mystery as to why the Monsters didn't just eat the people. Whatever.
Characters
Elmo - A stupid red puppet who somehow became the star of the show; has his own terrible segment known as Elmo's World
Big Bird - Acts like a five-year old, because he is a five-year old; best friends with the imaginary 100% real Snuffy
Cookie Monster - HE LIKE COOKIE, HE WISH HE COULD HAVE COOKIE EVERYDAY, AND OMNOMNOMOMNOM
Grover - The secret identity of Super Grover, and one of Crengalon's many enemies
Ad blocker interference detected!
Wikia is a free-to-use site that makes money from advertising. We have a modified experience for viewers using ad blockers

Wikia is not accessible if you've made further modifications. Remove the custom ad blocker rule(s) and the page will load as expected.