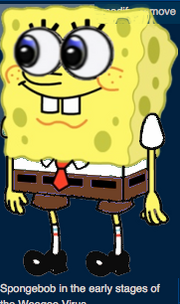 A.K.A Weege Spongebobs is a group of Weegees based off Spongebob. There like the Nickges like Sawnja and Crawg.
Leaders
Spungebawb (Spongebob and Leader 1)
Pahtreek
Squidwawrd
Sawndeh
Mr.Krawbs
Soldiers
Squeegee (General)
Squalleo
Galaspongee
Fridbob
Gridbob
Zridbob
Juniorbob
Spongetran
Spongeamiicho
Spongee
5aldi
6jaron
Spoongebeeb
Spongeleo
King Nehptoon
Prince Tritawn
Queen Infawntrawty
Planteegee
Patreegee
Sutungebawb
Sutatreek
Mermade Mawn
Bawrnicel Boy
The Quickstahr
The Atlawsteek Wastebawnd
Dr.Mawgmaw
The Sinehster Slug
Mawn Rahy
The Dirteh Bubble
Misawpeer
Garrygee
Garreegee
Garreh
Aungebawb
Aatreek
Spongebo
Patric
Sand
Mr.Krab
Karre
Plankto
Ms.Krawbs
Papa Blawkbeerd
Mama Krab
Purl
Pear
Larreh
Larreegee
Ms.Pahff
Ms.Puf
Mr.Pawf
Mr.Puf
Ohld Mahn Jenkins
Old Man Jaken
Sutqueegee
Sutqualleo
Squeegkurkeegee
Squallookalleo
Munqueegee
Munqualleo
Munungebawb
Spenebawb
Sutspenebawb
Patrickgeegeegee
Patrickalleoalleoalleo
Pawtreek
Spornge-Hab
Sheldohn Planktohn
AnchorBob AnchorPants
Dofred
SquidBob
5aldi
Ad blocker interference detected!
Wikia is a free-to-use site that makes money from advertising. We have a modified experience for viewers using ad blockers

Wikia is not accessible if you've made further modifications. Remove the custom ad blocker rule(s) and the page will load as expected.