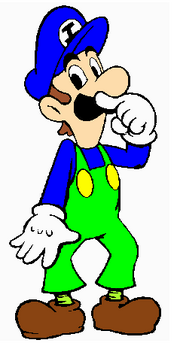 Igiul is the opposite version of Luigi. He was a sixth grade student at the Lalleo School until he only got Z minuses. But one day hedecided with his older brother Oiram to wreak havoc on the Mushroom Kingdom, but Mario and Luigi defeated them, and the evil Oiram brothers quit. He likes digging for treasure and other rich stuff.
The Wrath of Igiul: The Documentary
The Wrath of Igiul is a 40 minute long documentery about Igiul. It was rated Epic Phail.
Ad blocker interference detected!
Wikia is a free-to-use site that makes money from advertising. We have a modified experience for viewers using ad blockers

Wikia is not accessible if you've made further modifications. Remove the custom ad blocker rule(s) and the page will load as expected.