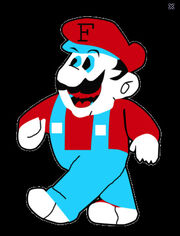 Fortran is the father of Malleo and Weegee, and the brother of Ragamiicho. His cousins are Crengalon, Hagrad, Garbon, Boracuubi, Mari, Alleody,Geertio, and Luig. He is married to Princess Ulona. He is very rich and eccentric, and when he says "Push Start To Rich," he creates money out of nowhere, sometimes causing serious issues. He is now a chef. He can also give people seizures.
Ad blocker interference detected!
Wikia is a free-to-use site that makes money from advertising. We have a modified experience for viewers using ad blockers

Wikia is not accessible if you've made further modifications. Remove the custom ad blocker rule(s) and the page will load as expected.