Dolan
is a very disturbing creature. He is basically the
Fakegee
counterpart of
Donald Duck
. Except he's not a Fakegee. Go figure.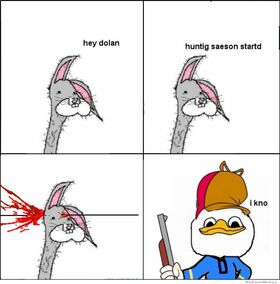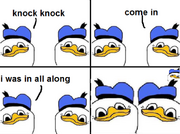 Dolan's hobbies range from shooting people he doesn't like, to defecating on people he doesn't like, to throwing people he doesn't like into a roasting fire. See a pattern here?
Dolan and Weegee's Rivalry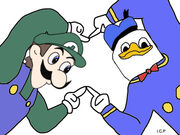 Dolan and
Weegee
hate each other very much. In fact, Dolan hates Weegee even more than he hates Gooby, and Dolan hates Gooby
a lot
. The reason for the two's hatred of each other is because Dolan is the only creature to exceed Weegee's level of mental disturbance. This makes Weegee jealous. It makes him jelly, some might say.
Ad blocker interference detected!
Wikia is a free-to-use site that makes money from advertising. We have a modified experience for viewers using ad blockers

Wikia is not accessible if you've made further modifications. Remove the custom ad blocker rule(s) and the page will load as expected.