He was born when Ceegee stared at a mirror for thirty seconds then sudenly new life just spreaded out making Cuiyi who also was adopted and know has a stepbrother named Carreoh. His step father is Ctren and step uncle Cameecho. His rival is Cawuiyii and Crreoh.
Trivia
He is considered to be Keegees brother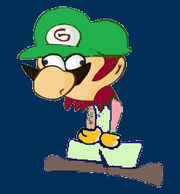 Ad blocker interference detected!
Wikia is a free-to-use site that makes money from advertising. We have a modified experience for viewers using ad blockers

Wikia is not accessible if you've made further modifications. Remove the custom ad blocker rule(s) and the page will load as expected.