Broccoli is a very old crazy guy. He was the cause of the 1st Star War.
Daily Routine
Broccoli has a very strange daily routine. First he stares at this picture for 30 minutes: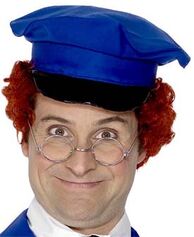 Then he looks for an old boot and tears it to shreds.
Then he reads the newspaper and cuts out all the words that begin with R and then put them in his scrapbook.
Then he watches TV and pretends everybody is rich.
Then he shoots his neighbors because he thinks they're policemen.
Ad blocker interference detected!
Wikia is a free-to-use site that makes money from advertising. We have a modified experience for viewers using ad blockers

Wikia is not accessible if you've made further modifications. Remove the custom ad blocker rule(s) and the page will load as expected.