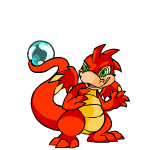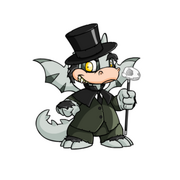 "The reason, because i was disqualified in Gormball game!"
-Brian-
Brian is a red Scorchio who cheating anything in the game Gormball, he was angry when he was disqualified at the last championship in a tournament, he later joined with the Army of Scorchios to stop a war.
Brian was a dragon on Neopia, his true form is Halloween Scorchio who scares everyone, he scared a billion of people and hypnotized them with his yellow eyes, his teeth ressembles to a vicious crocrodile and a violent dragon, he have his Halloween Stick and turns everyone into his slaves, his hat is black and grins evilly, his silhouette appears in a graveyard turns people into the clones of himself. He was warned by The Deadman to not kill Weegee and Malleo.
Brian when he was calmed down, his yellow eyes turns green and turns back to normal, Brian is friend with Ursula. His favorite game is Gormball.
Ad blocker interference detected!
Wikia is a free-to-use site that makes money from advertising. We have a modified experience for viewers using ad blockers

Wikia is not accessible if you've made further modifications. Remove the custom ad blocker rule(s) and the page will load as expected.